Rather than take up Cony's challenge, over the holiday season, I wrote a third chapter to my ongoing series, Sherwin's Falls. You may remember the first two stories; "My house, my rules" and "Falls for life" - both of these stories are still available on this forum.
In the first story, when I needed someone to preside over the Town Hall meeting, I created the vicar, Rev. James Athelstone, as someone whom the whole town could respect. However, in doing so, he more or less took on a life of his own. In his introduction, he stated that not only did he know what was happening, he added with malicious glee that he was in favour of it. Maybe it was the season, I don't know, but somehow I started to wonder how Reverend Athelstone, a serene, peace-loving man of God, would come to approve of a naturist pub and campground being set up right in front of his church. The following story resulted from my reflections.
A word of explanation about the title... I originally came from the south of Holland and like most of the people there, was brought up a Catholic (it is mostly the northern part of Holland that is Calvinist). At the time of Vatican II, I had returned to Holland to visit family and all that they talked about, it seemed to me, was how the Dutch delegation had told the Church to mind its own business and that if a woman chose to use the Pill, it was not their concern. As you may know, Vatican II brought the Church into the twentieth century. Since this story deals also with a total reorientation of the main character's mindset, I chose the name Vatican 2 › in honour of that momentous occasion.
Speaking of honours, I wish to thank Sirius631 for mentioning Pope John Paul II's book in his story "Invasion"; I hadn't known the book existed but it really came in handy in this story.
-O-O-
Vatican 2 ›
By Cor van de Sande
From an original concept by Cor van de Sande
┬® Cor van de Sande, 2013
This short story is based on the characters and the locale first introduced in
ÔÇ£My House, My RulesÔÇØ by Cor van de Sande in 2012
-O-O-
ÔÇâ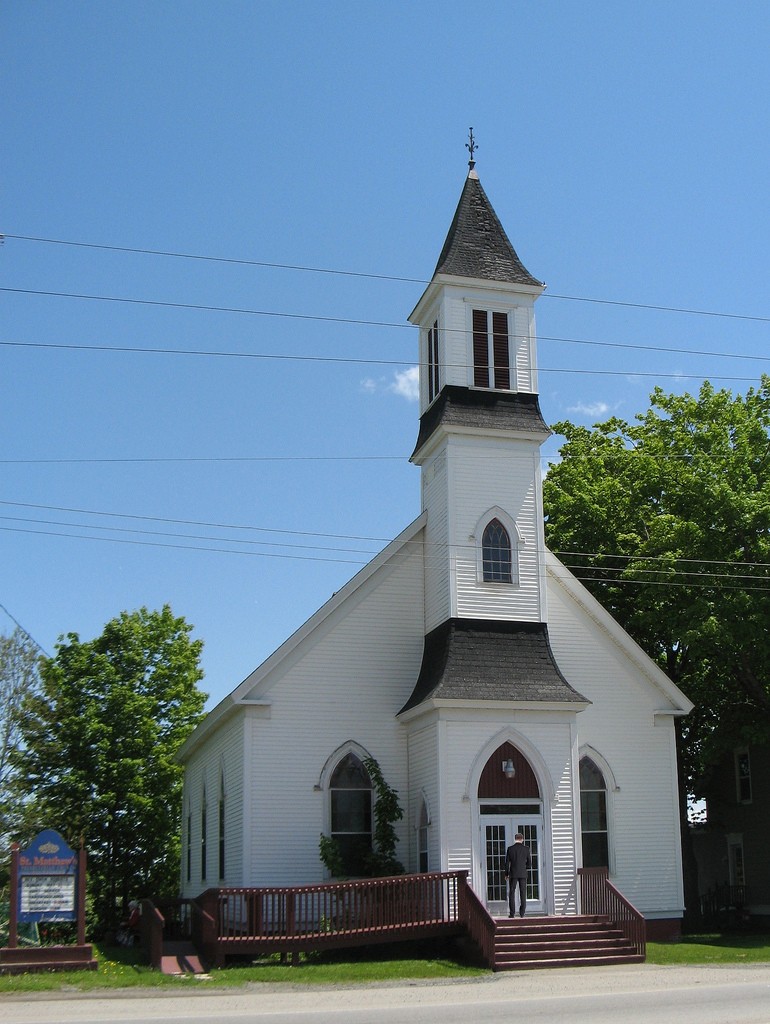 Chapter one; An unexpected visit
The man, in spite of his stature, moved with the grace and the economy of movement of a cat. Even though this spring day was relatively warm, he wore a black jacket and slacks and a black shirt with a starched roman collar. He was a good six feet tall, possibly a little more, with broad square shoulders and hands the size of ping-pong paddles. Altogether, he looked like a defensive linesman; a tank, like they say back home.
He had left his car on the outskirts of the village and was coming down the main road on foot. While walking, his arms were still and slightly outstretched, his eyes shot from left to right and back to the left, as if on the look-out for a trap or an ambush. Coming up even with the small Anglican church, he stopped and did a full 360, looking all about. With an unconscious, almost automatic gesture, he brought his hand to his right eye and his fingers traced the long ugly scar just above his eyebrow. He hesitated an instant more and then walked up to the white clapboarded structure. Climbing the steps, he tried the door but was totally unsurprised to find it locked.
Standing in front of the door, he heard the sound of a shovel striking a rock coming from behind the church and made his way down the wheelchair ramp, sidestepped the handrail and walked down the length of the church towards the back. At the corner of the building, he froze ÔÇô there, in front of him, was a sort of community garden with beds encircled by heavily creosoted two-by-eights. The sound he had heard had been made by a couple in their late sixties who were working one of the beds without a single stitch of clothing. He was slowly backing up out of sight when the man looked up.
ÔÇ£Yes? May I help you?ÔÇØ he asked.
ÔÇ£Excuse me,ÔÇØ said the man in the roman collar. ÔÇ£I did not want to disturb you.ÔÇØ
No, no come closer. You are not disturbing us in the least.
But youre your
ÔÇ£Our outfits? We are labouring in the garden of the Lord in the outfits he granted us.ÔÇØ He started to laugh. ÔÇ£Besides which, these outfits are way easier to clean than anything else we might wear.ÔÇØ The old man handed his shovel to his wife, wiped his hands on his buttocks and came closer, his hand stretched out to greet his visitor.
ÔÇ£Good afternoon. My name is James Athelstone, IÔÇÖm the pastor here and this is my wife, Sarah.ÔÇØ
Er hello, said the man while shaking the pastors hand. My name is Richard Poirier, Im the new parish priest at St. Ignatius.
ÔÇ£Really? Excellent. IÔÇÖm really pleased to meet you. If you would give me five minutes to clean up a bit, we could settle much more comfortably in the presbytery.ÔÇØ
While Sarah picked up the empty flowerpots and placed in the garden cart to haul them all to the shed, Reverend Athelstone gathered up pick and shovel and carried these off to the shed as well. He was in the process of rinsing himself off in the outdoor shower when a young lady barged in from around the church and stopped in front of him.
Reverend,  she started to say but he interrupted her.
ÔÇ£Tut, tut, Missy, where are your manners? Aelwen, I would like you to meet Father Richard Poirier. Father, this is Miss Aelwen Owen. I guess that, technically, she would be one of your parishioners.ÔÇØ
While Reverend Athelstone was making the presentations, Father Poirier looked over the nineteen year old young lady. She was tall and thin with flaming red hair and freckles all over her face, her throat and her arms. She was wearing a pair of skin-tight stretch jeans and a tee-shirt three sizes too large with, on the front, the logo of a circle with a red diagonal covering a drawing of a naked bottom and the words ÔÇÿHappiness is no tan linesÔÇÖ. What surprised him most of all however, is that the girl was neither surprised nor shocked to see that the Reverend was totally naked.
ÔÇ£Excuse me, Father. I meant no disrespect.ÔÇØ
Father Poirier waved the apology aside. Good afternoon Aelwen? A rather unusual name, isnt it?
ÔÇ£I should think so,ÔÇØ laughed the girl. ÔÇ£YouÔÇÖll never guess how much I was teased about it when I was young. ItÔÇÖs supposed to mean ÔÇÿfair browedÔÇÖ. My parents always said that they wanted to give me a traditional Welsh name but, personally, IÔÇÖm convinced they were tripping on ÔÇÿThe Lord of the RingsÔÇÖ when I was born,ÔÇØ she explained with a smile.
While the two were talking, Reverend Athelstone finished his shower and dried himself off. ÔÇ£Now, Missy, what was it that was so urgent?ÔÇØ
Aelwen looked lost for an instant. Er Oh, yeah! I met Kenzie a while ago. She was checking out if her apple trees were flowering well this spring. She asked me to tell you that Skinflint had finished putting up his stable and hed like you to come around and give it your blessing when you have a moment.
ÔÇ£Very well, thank you. If you see her before I do, please tell her that, in all likelihood, IÔÇÖll be by tomorrow afternoon. Say, it should be close to five oÔÇÖclock, no? ShouldnÔÇÖt you be on duty this evening?ÔÇØ
ÔÇ£Yes, thatÔÇÖs true. ThatÔÇÖs where I was going. I only stopped here because I knew that Sarah had bought some tomato plants at the garden centre. IÔÇÖll leave you to it, Reverend, Father. If you stop by the inn, IÔÇÖll buy you supper,ÔÇØ said she and started to laugh.
Reverend Athelstone laughed as well and said ÔÇ£Come, off with you, you little minx, get to work,ÔÇØ while Father Poirier looked at them both, completely at a loss.
ÔÇ£I donÔÇÖt understand.ÔÇØ
ÔÇ£The inn is a bit unusual. ItÔÇÖs built in the style of an English public house of the late eighteenth century. The pub sells mostly what it has brewed itself. The meals are excellent and the kitchen uses locally grown produce and while the choice is somewhat limited, it charges next to nothing. What is special about the inn, however, is that the owner has some rather definite ideas about proper attire; in order to be served, you must be naked.ÔÇØ